Want to save time managing your WordPress weblogs? Control them all with CMS Commander!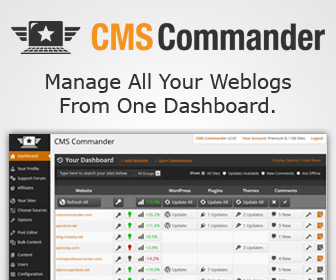 Do you have to manage many WordPress sites, either for your clients or blogs that are your own? If so you certainly know how much time that can take on a daily basis. Time that is spent on mundane administrative tasks and then missing from your important business tasks. CMS Commander is an online service that aims to solve this problem and make managing multiple WordPress weblogs as fast and easy as controlling a single site. By placing all your weblogs into one powerful dashboard CMS Commander makes it possible to update, backup and manage them all in bulk at the same time.
Features of CMS Commander include:
1-click Updates of plugins, themes and WordPress on all sites
Automatic scheduled WordPress backups
Website cloning and restoring
Uptime monitoring and Analytics integration
Bulk posting and automatic content
While CMS Commander can be used for free a premium account will give you access to several special features and allows you to manage more websites.
Sign up for a free account on cmscommander.com now to start controlling all your weblogs from one dashboard and enjoy the best way to manage multiple WordPress sites!
Check your Domain Availability...
Free Domain Manager
Live Demo - lock option, edit Whois, edit name servers, custom DNS records, URL redirection, etc.
Top-Quality WordPress Web Hosting Services
Nom Savior provides top-class WordPress web hosting services. An automated WordPress installation is offered directly at signup. With Nom Savior, you can get a WordPress web hosting package together with a brand new domain for as low as $2.75/month. We offer a 99.9 percent network uptime guarantee and a dedicated 24x7 client support service.
WordPress™ is a registered trademark of the WordPress Foundation and shares no affiliation with Nom Savior.
100% WordPress-Compatible Hosting Servers
Nom Savior offers you an unproblematic WordPress hosting experience.
A 1-click WordPress script installation
Free-of-charge WordPress templates
Nom Savior has a topflight WordPress-optimized web hosting platform.
Nom Savior fulfills and exceeds the minimum criteria for hosting WordPress-powered web sites.
The latest versions of Apache, MySQL and PHP
Nom Savior offers an outstanding customer service.
24/7 support
The average support ticket response time is twenty minutes.
WordPress Hosting Solutions
Tiny
Small
Medium
Large

A cheap solution for a simple personal website such as a blog or a portfolio.

An ideal choice for any e-store or a moderately complex website.

An adequately priced shared hosting plan, good for resource-heavy personal websites.

The ideal choice for a high-traffic website or a community portal.

Unlimited storage
Unlimited storage
Unlimited storage
Unlimited storage
Unlimited bandwidth
Unlimited bandwidth
Unlimited bandwidth
Unlimited bandwidth
1 website hosted
5 websites hosted
Unlimited websites hosted
Unlimited websites hosted
24/7/365 support
24/7/365 support
24/7/365 support
24/7/365 support
30 Days
Money Back Guarantee
30 Days
Money Back Guarantee
30 Days
Money Back Guarantee
30 Days
Money Back Guarantee
30-Day
Free Trial
30-Day
Free Trial
30-Day
Free Trial
30-Day
Free Trial

$

2.75

/ month

$

3.75

/ month

$

8.33

/ month

$

12.00

/ month
Compare All Hosting Plans
Compare All Hosting Plans
Compare All Hosting Plans
Compare All Hosting Plans